In case you missed it, check out the photos from our construction site tour! It's so exciting to see this long-awaited new campus with all of the arts features vital for HSPVA's curriculum come to life!
The HISD budget could not cover all of HSPVA's essential arts features. Thanks to the HSPVA Friends capital campaign and the extraordinary lead gift from the Kinder Foundation, the new campus will be outfitted with all the technology and facilities HSPVA's exemplary arts education requires.
In addition to the sprung dance floor and the orchestra pit lift, the capital campaign will provide soundproof practice rooms for Vocal and Instrumental students, as well as ample, and much-needed, storage for musical instruments.
Every day, Vocal and Instrumental students spend hours beyond the allotted class time perfecting their performances. They need a quiet space to hone their musical skills. The new campus will have 16 state-of-the-art soundproof practice rooms, and the music classrooms will be soundproof as well. The walls will be insulated to prevent any outside noise from seeping in, allowing students to practice, individually or as an ensemble, without distractions.
In the Montrose campus, we have ten practice rooms, and, as you can see, it can be a tight fit with some of the practice rooms doing double-duty as storage.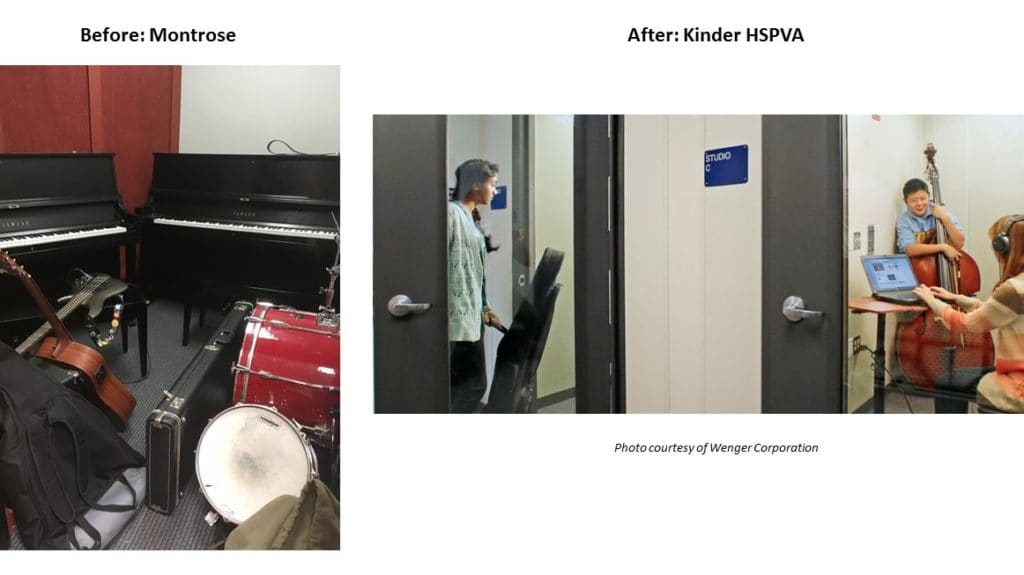 Even if you can squeeze in to the room, whether or not you can concentrate is another question. The current campus has no soundproofing. When you get a choir class, a band rehearsal, and a jazz jam-session going—not to mention a tuba, a cello, and an opera aria, each in their own practice room—you get quite a hallway cacophony! This noisy environment is not conducive to the intense focus required for young musicians to advance in their studies. (Plus, it drives Ms. Bonner crazy!)
Instrumental students also need climate-controlled space where they can safely and properly store their instruments. The new campus's expansive storage areas will give teachers and students peace of mind knowing their instruments are well maintained. Proper storage will also lower future instrument maintenance costs.
Soundproof practice rooms and more storage spaces are two of the many features that will make the new Kinder HSPVA one of the best arts education facilities in the country. Learn more about how you can help provide HSPVA students with the new campus they need to succeed. Want to keep up with the construction progress? Check out the live webcam!