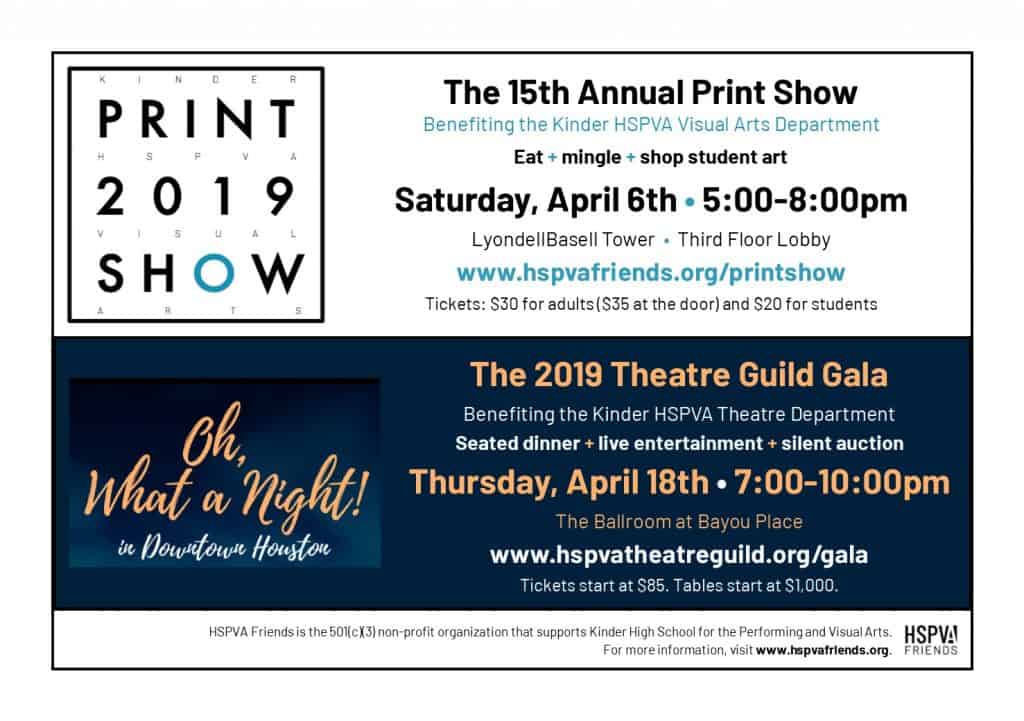 HSPVA Friends has two exciting traditions for the whole family coming up: the Art Guild Print Show and the Theatre Guild Gala!
The Print Show is Saturday, April 6th, 5:00-8:00pm, in the Third Floor Lobby of the LyondellBasell Tower, 1221 McKinney Street. Tickets are $30 for adults ($35 at the door) and $20 for students. This is your only chance all year to purchase student artwork, plus it's a lot of fun! There will be hors d'oeuvres and 100 pieces of our students' work for sale. All proceeds benefit the Kinder HSPVA Visual Arts Department. Buy your Print Show tickets today! If you aren't able to attend, click here to participate in the auction remotely.
The Theatre Gala is Thursday, April 18th, 7:00-10:00pm, at the Ballroom at Bayou Place, 500 Texas Avenue. Tickets start at $85, and tables start at $1,000. Enjoy a seated dinner, student performances, and a silent auction benefiting the Kinder HSPVA Theatre Department. Buy your tickets or table today!
You don't want to miss these fabulous events! Hope to see you there!