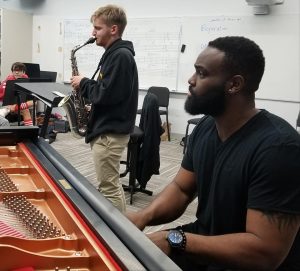 James Francies (Instrumental '13, pictured here) performed at the Wortham Center in early November for the BlueNote Records 80th Birthday Celebration Concert. He also gave a clinic to Kinder HSPVA students!
Judith Franklin (Vocal '97) and Jhardon DiShon Milton (Theatre '09) are both performing in the Broadway cast of TINA: THE TINA TURNER MUSICAL in New York.
Kevin Cahoon (Theatre '89) of Broadway, film, and television (most recently, Netflix's Glow) visited Kinder HSPVA to speak with current Theatre students.
Virginia Stille (Instrumental '06) recently competed on the show La Reina de la Canción, an American-Idol-style competition, and successfully made it to the final four singers!
Stephanie York Blue (Instrumental '81) composed new work (20 songs!) for The Ensemble Theatre's More Than Christmas, which opens 11/14. You can read more about her work on the show in this profile for Houstonia Magazine by Olivia Flores Alvarez (Theatre '76).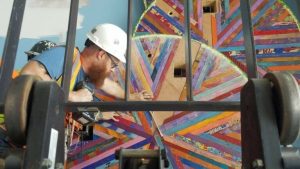 Patrick Renner (Visual '00) and his company Flying Carpet Creative unveiled the piece "Sluice" at the new HEB in
Buffalo Heights. (Photo credit The Leader News, Zarah Parker)
Grace Gibson (Vocal '06) was profiled on BylineHouston for her work at Live Nation to increase platforms for and visibility of women recording artists in live performance venues.
Monica Josette (Dance '00) was profiled by VoyageHouston as she transitions from film work in Los Angeles back to dance in Houston.
Kate Kortum (Instrumental '19) will perform at New York City's famous Birdland Theater for one night on November 27th!
Oliver Barrett (Instrumental '08) performed with his ensemble The Brass Project, after giving a performance and talk to current Kinder HSPVA students. Oliver is earning his doctoral degree in New York and guest lecturing at Princeton.
Fareena Arefeen (Creative Writing '18) introduced the film Hausu at the MFAH on Sunday, November 3rd.
Samantha Williams (Theatre '15) will visit Kinder HSPVA to talk with current theatre students, at least when she isn't performing in the Dear Evan Hanson tour (following her Broadway debut) at the Hobby Center!
Osiel Fernandez (Instrumental '12) was quoted in a Houston Chronicle  article about the University of Houston's new Mariachi ensemble, the Mariachi Pumas — of which he is an inaugural member!