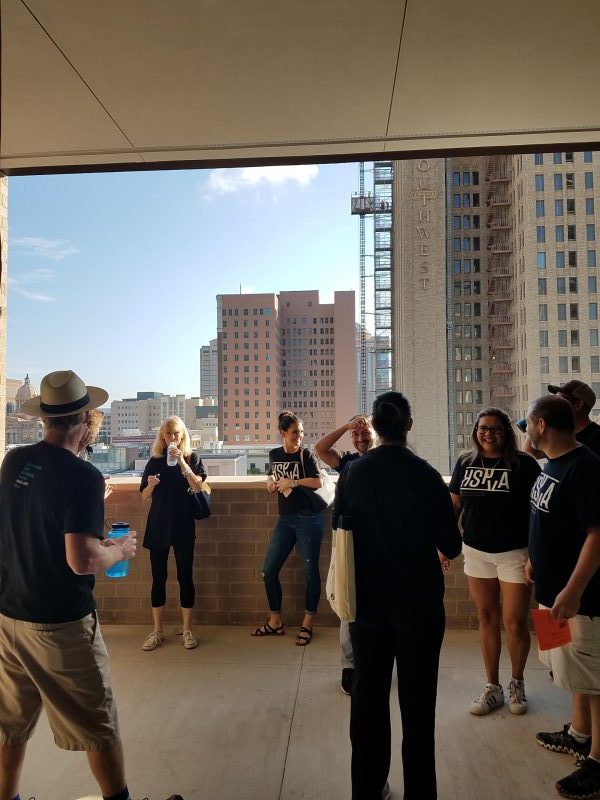 The Art Guild
    For Current Parents in the Visual Art Department
    at Kinder High School for the Performing and Visual Arts
The Art Guild is a volunteer group for current parents, administered and run by HSPVA Friends, the 501(c)(3) non-profit organization that supports Kinder HSPVA. All families with students in the Visual Art Department are welcome to become a part of the Art Guild!
About the Art Guild
The Visual Arts Department at Kinder HSPVA relies on funds raised by the Art Guild to pay for art supplies, consulting instructors, special guests, equipment maintenance, and field trips. Last year, the Guild contributed more than $30,000 to support all that makes the Visual Arts education at Kinder HSPVA so unique. None of that would be possible without your support. Please consider becoming an active part of this great community by donating to the Art Guild. Any amount is appreciated! Our goal for each year's Fall Fund Drive is an average of $250/family, or a total of $20,000 toward our total budget. All donations benefit the Visual Arts Department and are tax-deductible to the fullest extent of the law.
The Art Guild is overseen by a different Guild President (or co-Presidents) each year, selected from the junior-year parents in the Visual Art Department. You can contact them here, or by clicking the link above. The President works with HSPVA Friends Volunteer Manager Joan Murrin, to send out newsletters, organize meetings, and create committees for major art-area events.
There are two major events run by the Art Guild each year, which require Art Guild volunteers to organize and run: the Middle School Workshops and the annual Print Show. The Middle School Workshop gives upperclassmen a chance to instruct day-long workshops for 6th, 7th, and 8th graders; the Print Show celebrates and supports original student work. All proceeds from these events benefit the Visual Arts Department.
Follow the links to learn more, or visit the Volunteer hub to learn more about upcoming volunteer opportunities for the Visual Arts Department and other school events with HSPVA Friends.